Grip Sheet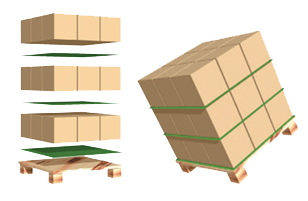 An anti-slip paper sheet used to reduce damage by protecting products distributed on pallets.
Click here to view & download the brochure...
Reduction of damages.
Reduction of load shifting on pallet.
Stabilization of unstable containers.
Increase in customer satisfaction.
Safe stacking of loads on pallet.
Increase of load per pallet / reduces the number of pallets.
Reduces handling, transport costs, and pollution while it also helps increase sales.
Reduction of costs, delays and injuries caused by loads falling during handling and transportation.
Facilitate the handling of loads on pallet before stretch film.
Elimination of stretch film for internal handling and warehousing.
Reduction of the packaging costs, warehousing space and handling of packaging materials.
Improvement of your products and company's image.
Grip sheets are totally non toxic and dust free.
Grip sheet paper can be recycled and reduced to paper pulp.
Reusable & Recyclable.
Protects products against humidity coming from the pallet.
Prevents crushing of goods when goods are packed using column stacking with Grip Sheet.
Grip Sheet is water repellent and has a low permeability to gases. It helps in the protection of products from moisture.
Grip Sheet has a low unit price and is comfortably competitive with alternative methods of stabilization.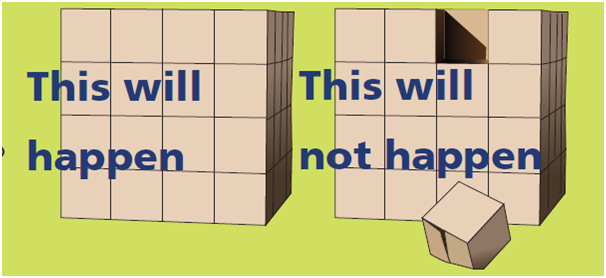 Grip Sheets can be applied manually without any specifications and can also be applied automatically if quantity is high.
Paper Grip Sheets – Suggested for carton boxes and bags.
These PET Grip sheets are typically used for internal warehousing with repeated reuse of these PET Grip Sheets.
Paper Grip Sheet – 1100 x 900 mm in various GSM's of 90. Custom sizes are available on large volumes.
PET Grip Sheet – 1200 x 900 mm in 70 GSM and 105 GSM. Custom sizes are available on large volumes.
"Our bags of seed were always leaning one way or the other, slipping and sliding. We tried putting glue on the bags before they went on the pallet, but got some complaints from customers about them being sticky. When we first tried the Grip Sheets, we knew they were a winner!"


" We used to use a similar product on our automatic palletizer, but it did not have the alternating stripe pattern, and when we reached the bottom of the pallet, the sheets often stuck together, causing us a lot of headaches with downtime to clear the system. We don't have that problem with Grip Sheets."


"My boss was always telling me to find ways to go "GREEN" to help us meet our corporate goals. When I saw that Grip Sheets were made from recycled paper, and can be recycled, that got my attention. I'm glad we looked at them, because we now only do a top wrap of stretch film, so I really did find a way to go "GREEN".


"Our poly wrapped trays of product don't have a lot of protection during shipment, so we want to be sure they are as secure as possible during transit. Grip Sheets lets us rest assured that they will stay put, even on the roughest road."


"We have these small boxes that were so unstable, we had to hand wrap them, because when we put them on the stretch wrapper turntable, they flew off. Now, with Grip Sheets, we don't need to bother with any hand wrapping, and can machine wrap all of our pallets with no down time."


"Instead of stretch wrapping skids to go to the other end of the plant for finish work, we use Grip Sheets now, saving the time we use to spend running around the pallet. And now we don't have to take the time to remove the film and rewrap it later. We also reuse the Grip Sheets a few times! They're saving us money in stretch film, and time, because they're so easy to use."
Our anti skid grip sheet, effective for stacking pulses, rice and grains, enabling provision stores to achieve high stock storing vertically and thereby save on their precious real estate space.