Grip Fix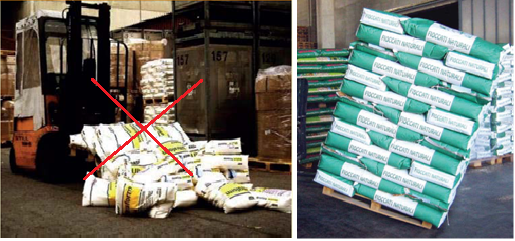 An anti-slip glue to stick cartons/bags in order to achieve pallet stability thereby preventing damage to products.
---
---
Bag Fix

The GRIP FIX™ anti-slip agents are applied with tailored made BAG FIX™ application systems on each package when they are palletized.
Grip Fix video
Types of Applications
Spray/Sprinkle Application for Paperbags.


Roller/Stripe Application for PE/PP-bags.
Benefits
Biodegradable.
Biodegradable.
Recyclable.
Non-toxic.
Water-soluble.
Suitable for food packaging: The ingredients meet the BGA (Federal Health Office) - and the FDA (Food and Drug Administration) regulations.
Delivery possible in the deposit draft.
Up to 50% cost savings compared to shrink films, stretch film or strapping.
Depalletisation without damaging the packaging.
Cleaning effort
Minimize the amount of work
Increasing the safety
Residue free
Application -
both manual and automatic.
Types -
Multiple types available depending upon the packaging.
Quantity and Cost -
Available on inquiry.